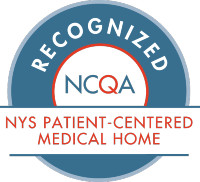 Central Avenue Pediatrics provides quality pediatric health care 365 days a year — from our family to yours. 
All of our pediatricians are board-certified. Our practice also includes a dedicated team of pediatric nurse practitioners, nurses, medical assistants, and billing and reception staff.
We pride ourselves in providing quality care and being available for our patients. We follow the guidelines of the American Academy of Pediatrics, striving for quality and dedication. We care for our patients, in the same way, we would care for our own children and grandchildren.
Welcome to our pediatric team. We hope to provide you with the peace of mind you want and deserve for your family for many years.
What is a Patient-Centered Medical Home?
A Patient-Centered Medical Home is not a building, place or hospital. Rather, it is an approach to providing comprehensive healthcare. As your PCMH, we want to be the first place you think of for all of your child's medical needs. We believe that the partnership between the patient, the patient's family, and his/her primary care provider and care team is important. The care team, led by your primary care provider, is committed to providing the best healthcare services possible. Your child's care team will work with you and any outside providers or facilities to coordinate care across all settings, including behavioral health. The team will offer appropriate medical advice, information, and self-management support based on current recommendations and evidence-based guidelines.
Your Care Team
Knows the health history of your child
Listens to your questions, concerns and feelings, as well as those of your child
Learns about you, your family, your life situation, your health goals and preferences
Coordinates your child's care with other healthcare providers
Creates a trusting, collaborative relationship with you and your child
Treats your child with compassion and an understanding of his/her strengths
Develops a care plan with you and your child when needed
Respects and honors your culture and traditions
Keeps your child up to date with all vaccines and preventative screenings
Takes care of short term illnesses, long term chronic diseases, and your child's overall well being
Provides behavioral health services when appropriate
Will notify you about test results in a timely manner
Gives you information on community resources and other services to support your child's health
Helps you make the best decisions for your child's care
You and Your Child
Are comfortable sharing concerns and questions with your pediatric team and other health care providers
Provide a complete and accurate medical and family history to your pediatric team to ensure that the practice has all of the most important and relevant medical information to effectively care for your child
Routinely communicate your child's needs and family priorities to your pediatric team
Remember to tell your pediatric team about any care received between visits (including emergency room visits, urgent care clinics) so we can help coordinate your child's care
Ask questions if you do not understand something
Keep scheduled appointments or call to reschedule as soon as possible
Bring your insurance card to each appointment
Pay copays and past-due balances at the time of service
We see you, the parent, as an important member of your child's health care team. As your child matures, we hope he or she will become an increasingly active team member. Preparing your child to take the lead in caring for his or her own health is, ultimately, our team's most important task.
Our history
Established by Kenneth Schiffer, MD, in 1968, Central Avenue Pediatrics' primary focus has been the health of our children. About 20 years ago, two of Dr. Schiffer's children, Michelle Merer, MD, and Todd Schiffer, MD, joined the practice, followed by Christine Dordulaw, MD.
In 1992 Dr. Michelle Merer, our daughter, completed her pediatric residency and joined our practice followed in three years by our son, Dr. Todd Schiffer. Through the years Marcia has organized, supervised the office, overseeing and guiding day to day and year to year. Dr. Christine Dordulaw joined us in 2019. 
In recent years we solidified our ranks with the addition of Mary Rice and Abby Kemp as Pediatric Nurse Practitioners.
In 2016 we joined the modern era occurring in primary care Pediatric offices, and joined Children's and Women's Physicians of Westchester and today are a part of what was better for the group and children, Boston Children's Health Physicians.
About Dr. Kenneth Schiffer
After graduating N.Y.U. and obtaining his M.D. degree with honors in the third Albert Einstein College of Medicine graduating class Dr. Kenneth Schiffer began his Pediatric internship at Jacobi hospital, he met Marcia Levitt, a recent Barnard college graduate in mathematics, leading to their ongoing marriage.
Three years of residency after internship culminating in solo Chief Residency was followed by 2 years of service in the U.S.A.F. as a Pediatrician and Captain at Vandenberg Air Force base in California. After discharge from the Air Force, Ken joined the Pediatric department at AECOM for five years in a teaching and practicing position.
In 1968 Ken founded CAP in north Yonkers and gained admitting privileges at Lawrence and Montefiore hospitals, and began the ongoing association with the Westchester/Bronx Ob/Gyn group of physicians.
Westchester Office Hours
Central Avenue Pediatrics is open 7 days a week. We are open during holidays only for sick visits.
We schedule all appointments for sick and well there are no walk-ins.
Appointment hours are
Monday: 8 a.m. to 10:20 a.m. and 2 p.m. to 4 p.m.
Tuesday: 8 a.m. to 10:20 a.m. and 2 p.m. to 4 p.m.
Wednesday: 8 a.m. to 10:20 a.m. and 2 p.m. to 4 p.m.
Thursday: 8 a.m. to 10:20 a.m. and afternoon session 2 p.m. to 4 p.m.
Friday: 8 a.m. to 10:20 a.m.
Saturday: 8 a.m. to 10:20 a.m.
Sunday: 8 a.m. to 10:20 a.m.
Holiday Hours
We do not schedule well visits on Christmas, Easter, Rosh Hashanah or Yom Kippur out of respect to all. We are available for sick children during those times.
Christmas, Easter, New Years Day, Thanksgiving, Memorial Day, Labor Day, Yom Kippur, Rosh Hashanah
9 a.m. to 11 a.m.
Columbus Day, Martin Luther King Jr. Day, Presidents Day
8 a.m.  to 3 p.m.