Returning to sports after COVID-19 infection |

Overview
Participating in sports can benefit both physical and mental health. But if your child is participating in sports during the COVID-19 pandemic, they'll need to take steps to reduce the risk of both contracting and spreading the virus. That means continuing to wear masks, avoiding sharing equipment, and always practicing excellent hand hygiene. 
Fortunately, most children and adolescents appear to have very mild symptoms of COVID-19. However, if your child has tested positive for COVID-19, they should be screened by their pediatrician before returning to play, especially as we learn more about potential long-term effects of the COVID-19 virus.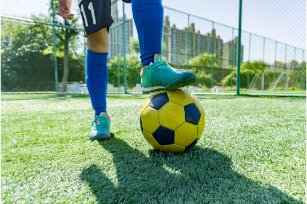 New guidelines: What you should know
In December, the American Academy of Pediatrics released guidelines on returning to sports following COVID-19 infection. 
To learn more about these new recommendations, we spoke with two Boston Children's Health Physicians pediatric cardiologists, Dr. Supriya Jain and Dr. Joseph Giamelli. 
Any child who has had a positive COVID-19 test should get their doctor's approval before returning to exercise or sports. Dr. Jain reminds parents that "a good history and physical exam can help determine if any further testing is needed in these children." 
A minimum 10-day resting period without exercise or competition, followed by a phased return to physical activity over the course of at least 7 days will be advised. 
Their pediatrician will also screen for heart symptoms like chest pain, shortness of breath, fatigue, irregular heartbeat, or fainting. According to Dr. Giamelli and the pediatric cardiology division at BCHP, any child with a positive heart screening should be referred to a pediatric cardiologist for cardiac tests that will include, at a minimum, an electrocardiogram and echocardiogram.
Children who were very sick from COVID-19 or diagnosed with MIS-C (multisystem inflammatory syndrome in children) will be treated as though they have an inflamed heart muscle (myocarditis). They should not exercise or compete for 3 to 6 months. A pediatric cardiologist should examine these children before they are allowed to return to physical activity. Dr. Giamelli explains that "depending on the patient's symptoms and their duration, additional testing such as a Holter monitor, blood work, exercise stress testing, or cardiac magnetic resonance imaging (MRI) may be considered." 
Every child and every situation is different. If you have any questions, don't hesitate to reach out to your child's physician. 
All youth athletes should have an up-to-date sports physical before participating and this is especially important during the COVID-19 pandemic. Learn why it's important to have sports physicals completed by your child's primary care physician.