People with COVID-19 infection may have a wide range of symptoms — from no symptoms to severe illness. Symptoms usually appear 2-14 days after exposure to the virus.
If your child develops a fever, chest pain, increased work of breathing, significant/worsening symptoms, concerns for dehydration, or if you have any concerns about your child – please make an appointment with one of our providers for evaluation.
Common signs of COVID-19 (not all inclusive)
Fever or chills
Cough
Shortness of breath or difficulty breathing
Fatigue
Muscle or body aches
Headache
New loss of taste or smell
Sore throat
Congestion or runny nose
Nausea or vomiting
Diarrhea
Source: National Center for Immunization and Respiratory Diseases (NCIRD), Division of Viral Diseases (12/29/21). URL: https://www.cdc.gov/coronavirus/2019-ncov/symptoms-testing/symptoms.html
Testing information for COVID-19
Testing is very important to help reduce the spread of COVID-19.
At this time, we are providing PCR testing for SARS-CoV-2 in our office for patients who have COVID-19 compatible symptoms. This is a send out test. Appointments should be scheduled with our triage nurse.
If you or your child have been exposed to a person with COVID-19 and are asymptomatic (without symptoms), we are recommending you access testing at another location. Stop the spread sites are offering free COVID-19 testing for patients despite symptoms. Urgent cares also offer testing, but it is important to check with your insurance plan about coverage for those visits. Please see our Find a COVID-19 Testing Site page for more information on local testing sites.
When to take a test if asymptomatic?
For asymptomatic exposures, it is recommended to take a test on day 5 after exposure. If testing prior to an event/travel, take the test as close to your event as possible, for the most accurate information on whether you have the virus in your system at that time.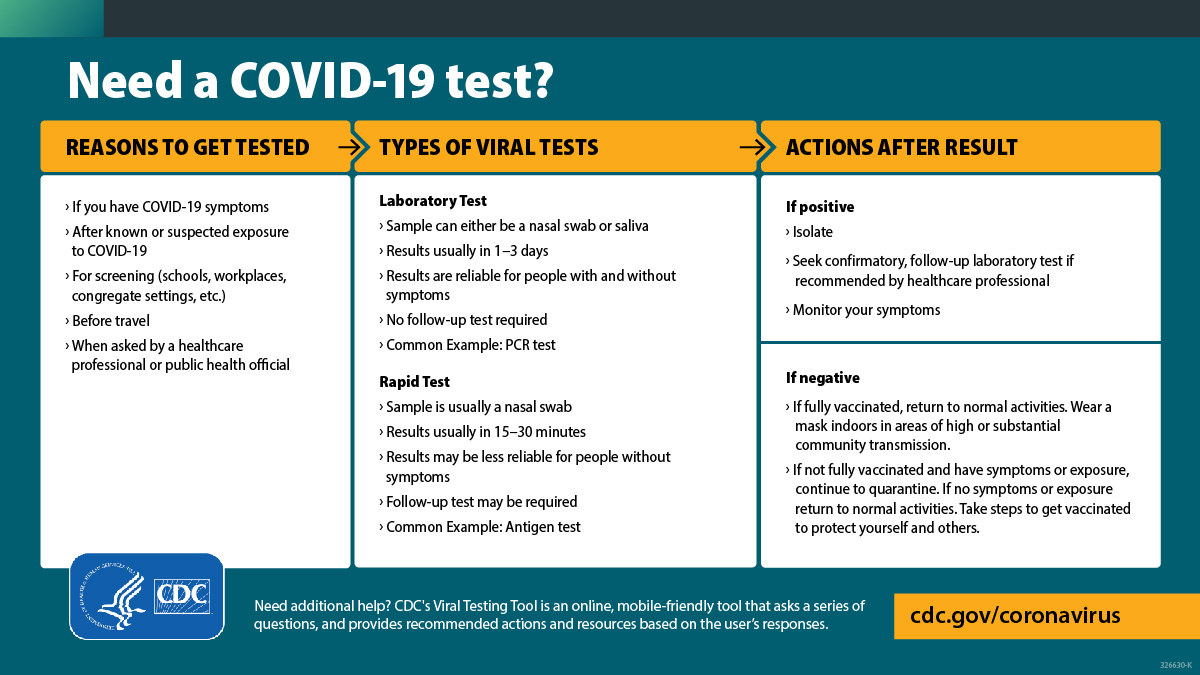 Source: National Center for Immunization and Respiratory Diseases (NCIRD), Division of Viral Diseases (12/29/21). URL: https://www.cdc.gov/coronavirus/2019-ncov/images/symptoms-testing/COVID-Testing-Flowchart_v2_Updated.jpg