Image
Image
Thank you for choosing Pediatric Associates of Medford, P.C. as your child's medical home, where we always provide a comfortable, caring environment so our patients and their families can feel at ease. We've included helpful items on this page to ensure you and your child's first trip to our office is productive, stress-free and enjoyable.
Please arrive at your first appointment 15 minutes early.
Our mission
Our practice is working together to build life-long relationships with our staff and our patients by consistently providing our patients with compassion, excellence, and value. To fulfill this mission, we are committed to:
Improving the lives of the children we serve by providing quality care in a child-centered environment.
Listening to our young patients and their families who we are privileged to serve.
Guiding our patients along a path to optimal health and wellness.
Continually pursuing excellence at all levels through continuing education.
If you're preparing for your child's first visit, you can do a few things to help expedite the appointment. Please provide the following information when you arrive for your visit:
insurance cards
complete immunization records
medical records from your previous pediatrician
Accepted insurance carriers
Aetna
Allways Health Partners
BCBS
Cigna
MassHealth "Standard" only
United Healthcare
Unicare
Harvard Pilgrim
Tricare
Tufts Health Public Plan Direct (subsidized and non-subsidized)
Tufts Commercial
WellSense Boston Children's ACO
Patient forms
We are happy to provide our office forms for convenient download on your home computer. Please print and complete the forms below, and bring them with you to your child's first appointment.
Questions about which forms you need? Please call our office and our courteous staff will assist you in preparing for your child's first visit.
Is this your first visit to the office?
If you answered 'YES,' please view the Patient Brochure and fill out forms below:
(Please note, if you have more than one child at the practice you only need to complete one Family History or Social History form per family.)
Please complete one per child and bring with you on your visit.
Do we already have your medical records?
If you answered 'YES,' thank you and please call us to schedule an appointment.
If you answered 'NO,' please print out and fill out the Medical Records Release Form below:
There is a $15 processing fee for copying patient's records ($30 maximum per family). Once you have completed the forms, you may fax, mail, or drop off this request along with the payment. If you are faxing, please be sure to include your credit card information.
Patient portal
To register for online access through our Patient Portal, please review and complete the Terms Of Service and Enrollment Forms. You can submit enrollment forms by mail, fax, or in person.
Please complete one for each child.
Please complete one for each child.
In order to view or print these forms, you will need Adobe Acrobat Reader installed. Click here to download it.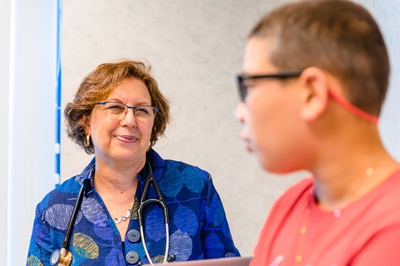 The initial visit
Our Medford pediatricians do whatever it takes to make every visit to our office a pleasant, relaxed experience. With all of the important information about our practice available on our website, you can feel confident that you and child are well-prepared for your first appointment. We also invite you to review our staff page in order to get to know our doctors and staff. We look forward to meeting you.