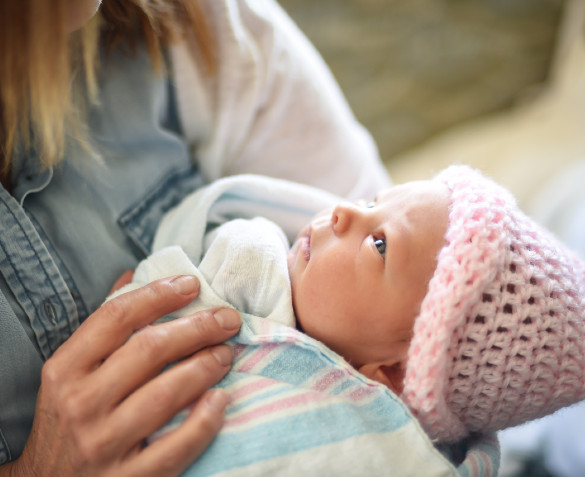 Newborn and inpatient care at Newton-Wellesley Hospital
If your baby is born at Newton-Wellesley Hospital, our pediatricians will provide daily visits and medical care for your newborn.
Our practice is conveniently located in the medical office building at Newton-Wellesley Hospital, so we are always close to you and your newborn. If we admit you to the pediatric unit at Newton-Wellesley Hospital, we will manage your child's medical care in a comfortable community hospital setting.
Child wellness visits
We provide well child visits, otherwise known as "routine physicals", for all young people.
During these visits, a detailed assessment of the child's physical, mental, social, and developmental health is obtained. We consider these regularly scheduled visits essential to preventive health care. Immunizations and necessary screening tests (such as hearing, vision, lead, etc) take place during these regularly scheduled visits.
Standard well child visits are for newborns, and at the following ages: 2 weeks, 1 month, 2 months, 4 months, 6 months, 9 months, 12 months, 15 months, 18 months, 2 years and yearly through age 21.
Please remember to schedule your well child visit ahead of time.
Sick and follow-up visits
When your child is sick or has ongoing medical issues that need to be addressed, he or she may be scheduled for a sick visit or a follow-up visit.
Sick visits can be scheduled on the same day based on urgency and provider availability. Follow-up visits can be scheduled days or weeks ahead of time.
During a sick visit, the acute issues at hand are addressed. Unrelated issues are better left for well child visits or another appointment dedicated to that issue.
Emergency care
If your child experiences a true medical emergency, call 911.
There are several emergency departments in the area. If your child is taken via ambulance, follow the paramedics' or EMT's recommendations on the best emergency department to go to for that particular issue.
Newton-Wellesley Hospital has a pediatric emergency department on site.
Weekend clinic
We are open every weekend on Saturdays from 9 a.m. to noon for sick visits only.
Please call our main number as early as possible after 8 a.m. if you would like to schedule a same-day sick visit or receive medical advice on the weekend. After weekend office hours, you may leave a message for the on-call doctor if you have an urgent concern and need medical advice.
We now are sharing weekend urgent medical care with Newton Pediatrics located at 32 Union Street, Newton Centre, 02459.
Prenatal visits
If you are expecting your first child and would like to visit our practice to meet the providers and staff, please schedule a prenatal visit.
You may meet with individual pediatricians or meet with our clinical nurse manager to learn more about our practice. These visits are free of charge.
Nurse visits
You may schedule a nurse visit for various reasons, such as a tuberculin skin test reading, certain immunizations, etc.
Please call to determine if your child needs a nurse or provider visit. Nurse visits for immunizations are scheduled on Tuesdays (10 a.m. to 11:45 a.m.), Wednesdays (8:30 a.m. to 11:45 a.m.) and Thursdays (1 p.m. to 4:30 p.m.) only.
Consultations
If your child has a developmental, behavioral, or mental health concern, you may see your pediatrician in a consultation visit.
A consultation visit may be 15, 30, 45, or even 60 minutes long, depending on the nature of the issue. An example of a consultation visit is evaluation of attention deficit hyperactivity disorder.